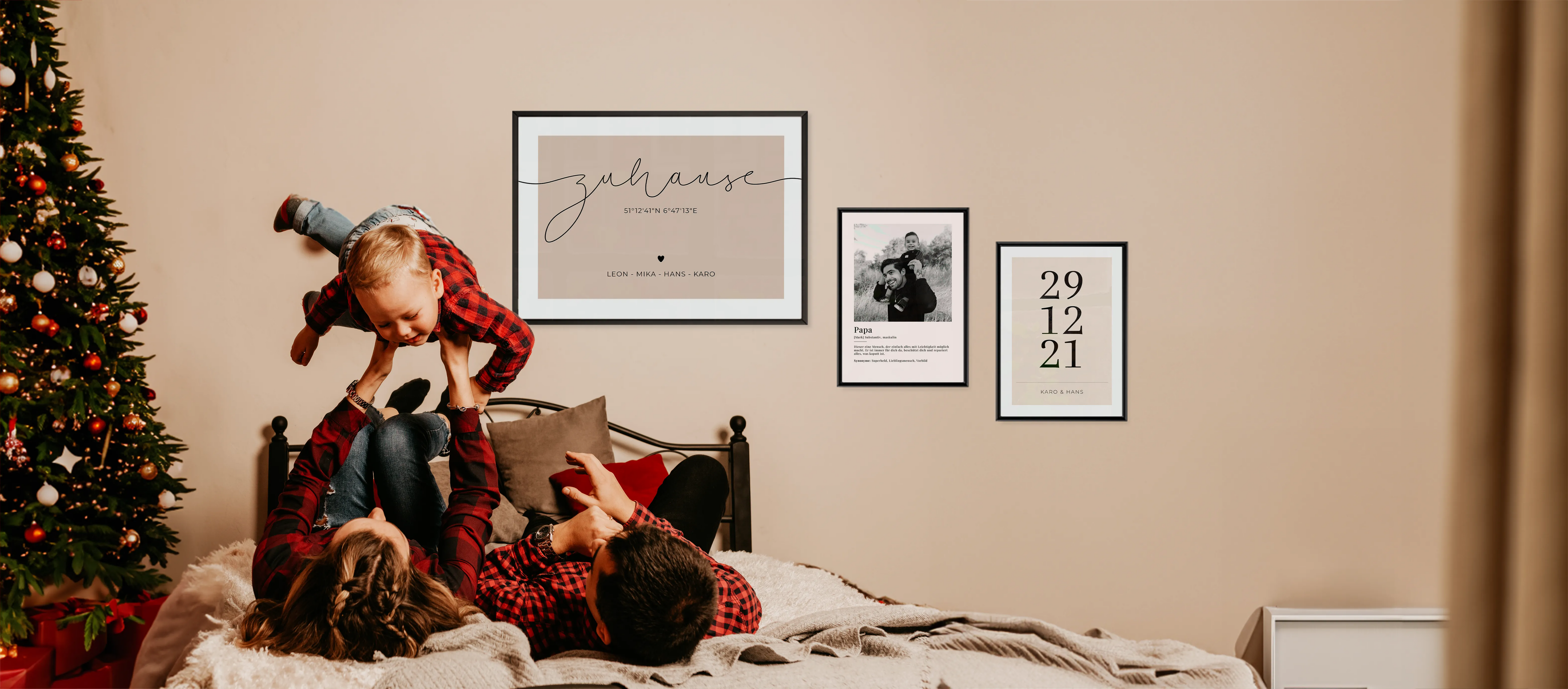 Your individual work of art
Choose from one of over 100 motifs and create your personalized poster in Scandinavian design.
Our partners




NEW
Your love story as a poster
Capture your love in the form of your own series cover and personalize the poster with your own photo, title and year.
Inspiration of our community
👩‍🎨 Personalized
Design your own perfect poster for your home in very simple steps.
📦 Free shipping
Fast and free shipping CO2 neutral with DHL GoGreen.
🌱 Sustainably manufactured
We use sustainably sourced, FSC-certified paper and wood.
Little Art
Your kids as little artists
Simply upload a photo of your child's drawing and choose your favorite poster design. Give the artwork a title and we will create a great piece of art from the drawing.
Wir nehmen's persönlich
Wir alle haben unsere eigenen Geschichten zu erzählen, und wir von famwalls wollen, dass Du das mit Stil tun kannst. Deshalb sind unsere personalisierten und modernen Kunstwerke perfekt, um Deine Geschichte zu erzählen - ob für Dich und Deine Lieben oder als einzigartiges Geschenk, das nie alt wird!
Personalized posters for the whole family
Family poster
Personalized family posters with the names of your loved ones.
Design it Yourself
Love & Wedding
Our individual couple posters as the perfect manifestation of your love.
Design it Yourself
ERINNERUNGEN SIND HERZENS­ANGELEGEN­HEITEN
famwalls bietet Dir für jeden Anlass das passende personalisierte Poster. Familienposter oder auch Poster für Paare und Freunde findest Du bei uns im Shop. Beginne jetzt, Deine Erinnerungen zu gestalten und zu verwirklichen - auch in visueller Form - und mache Dein eigenes Zuhause zu Deinem persönlichen Museum der Momente. Die Entwicklung der Kinder, der Zuwachs der Familie, gemeinsame Schritte, die man gewagt hat, die Menge an Erinnerungen ist groß. Neben der Freude, die wir uns selbst machen können mit einem personalisierten Poster, stellt unser Poster auch das perfekte Geschenk dar. Du hast keine Lust mehr immer wieder eine langweilige Karte mit ein wenig Geld zu verschenken? Der nächste Geburtstag von den Großeltern, der Schwester oder Freundin, das nächste Jubiläum, die nächste Hochzeit oder Geburt stellt die Chance dar, den Tag zu etwas Besonderem zu machen.
FAMWALLS - LIEBE, DIE VEREWIGT WIRD
Das Leben zeichnet sich durch viele wunderbare Momentaufnahmen aus. Diese verdienen es, verewigt zu werden, um nicht vergessen zu werden. Die eigene Hochzeit, der Familienzuwachs, die erste gemeinsame Wohnung oder der Geburtstag der besten Freundin - Momente, die festgehalten werden wollen. Ob Textposter oder Fotoposter, famwalls steht Dir zur Seite, wenn Du Deine Erinnerungen in einer ganz besonderen Art gestalten möchtest. Du kannst aus vielen verschiedenen Motiven, Farben und Formaten Deinen individuellen Geschmack und Einrichtungsstil zum Ausdruck bringen. Wenn Du Dein personalisiertes Poster bei famwalls bestellst, dann können wir Dir garantieren, dass Dein Poster CO2-neutral zu dir nach Hause geliefert wird, denn wir arbeiten Hand in Hand mit DHL GoGreen. Darüber hinaus verwenden wir bei der Produktion (made in Germany) der Poster nachhaltig, beschafftes FSC-zertifiziertes Papier und Holz.